ASH WEDNESDAY 2018
The "New Normal" Strategy Just Expired.
America has been under the assumption that school shootings will just stop.
So – Sandy Hook didn't happen?

And – Virginia Tech an aberration?

Then – Columbine a myth?

Second Amendment definition is what.. ????

Arm the teachers?!!
Paralysis without stopping anything.
And your cell phone rings. "Any parent who is looking for their child, please go to the …"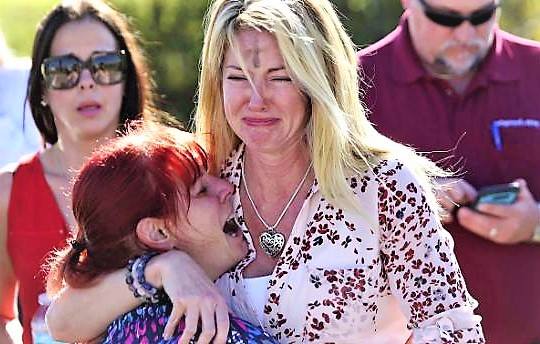 Live updates: A gunman opened fire at Marjory Stoneman Douglas High school in Parkland, Florida, on Wednesday, officials there said. According to the Broward County Sheriff's Office, there were multiple fatalities and at least 17 people were injured. The shooting suspect, a former student, was taken into custody in nearby Coral Springs.
Consider this: Despite the scale of the problem, there exists surprisingly little research on gun violence from a public health perspective. This is, in part, due to a measure the U.S. Congress passed in 1996 that restricts federal funding for firearms research: The Dickey Amendment.
Book to consider: SHOT: 101 Survivors of Gun Violence in America by Kathy Shorr (April 4, 2017).
[Photo: Parents wait for news after a shooting at Marjory Stoneman Douglas High School in Parkland, Fla., on Wednesday. (AP Photo/Joel Auerbach)]